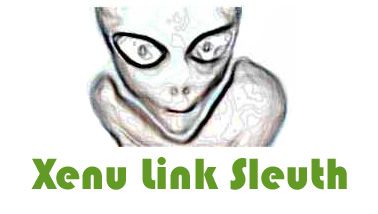 Before we begin, let us first Introduce you to Xenu Link Sleuth.
What is it?
Xenu is an excellent free tool to target and show you broken links on your site. And in our case we will be using this superb scraper tool to help with finding expired domains.
Why use Xenu? 
1. It's FREE to download.
2. Tool to help find expired domains
3. It's very fast!
4. Did I mention it's FREE?
Now that we have gone over what is Xenu, we will now go over the step by step process of finding expired domains with the tool. Let's get to it!
Streamlined Process on finding expired domains with Xenu and other tools.
Before we start using Xenu, we must first set the "Results per Page" settings in Google.
1. Go to Google.com
2. Go to "settings", it should at the bottom right corner. (you must be logged in)
3. Then go into "search settings".
4. Change the "Results per Page" number from 10 to 100.  So it can show 100 results per page.
5. Go back to Google.
6. Enter in your niche into the search bar. In this example will be using the website niche.
7. Enter in (in quotes) "website awards" + "links"
Tip: You can substitute instead of "links" with "websites", "resources", and "partners".
8. You should now see 100 results on that page that have links relating to website awards.
9. We will now extract those links via a free Google Chrome Plugin called "Mozbar". Go here to download it.  Note: This plugin only works for Google Chrome Browser, not Firefox or Internet Explorer.
10. After installing the Mozbar plugin, click on the blue "M" button on the top right, and then click on the "export links to excel" button on the top left.  (see the graphic below)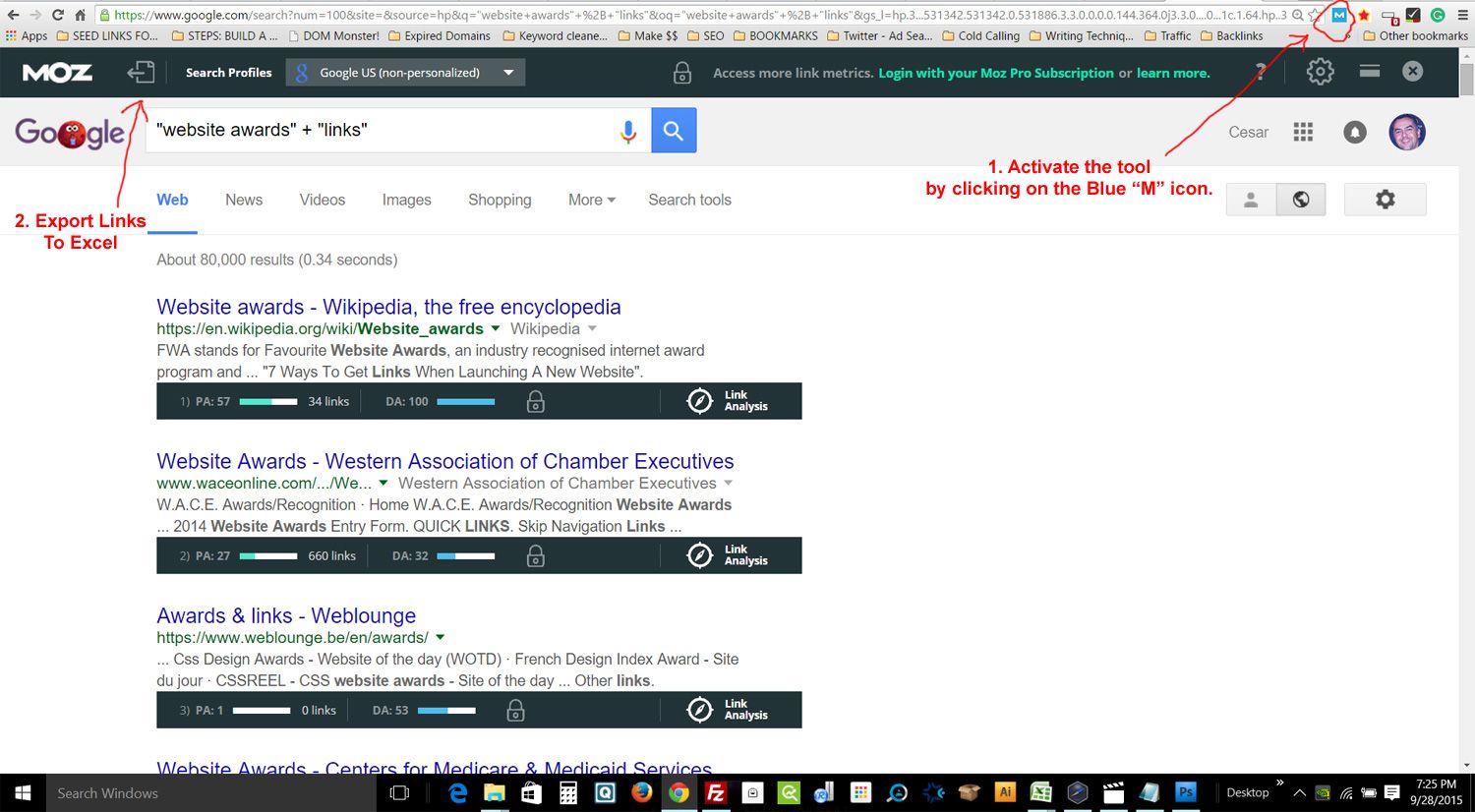 11. After extracting, you will get a Excel spreadsheet of links and other fields, you want to only copy the "links field" and save them into one master .txt document. Which will be imported later into Xenu, as you will see later in this tutorial.
Rinse and Repeat the same process from step 7 on down to get more links
12. This time instead of using "website awards" + "links", you will instead substitute the word "links" with: resources, websites, partners.
This is what they should look like:
"website awards" + "resources"
"website awards" + "websites"
"website awards" + "partners"
13. You want to combine all the links from all the spreadsheets that you previously created to create one big master link list. The goal is to get as many links as you can for the next step.
Import those links into Xenu
So come and follow along, as we will go into detail on how to use Xenu and import those links from the previous steps.
1. Download Xenu here, if you haven't already have.
1. Open Xenu Link Sleuth.
2. Change the settings, go to "Options" then "Preferences" and use the following settings shown below.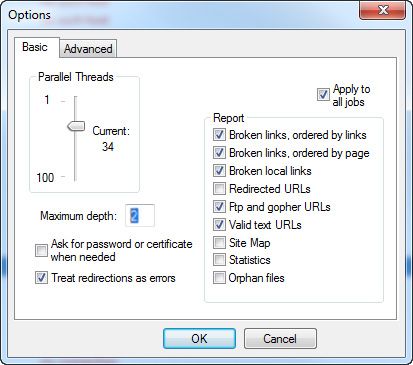 3.   Go to the File menu, and select the "Check URL List" from the dropdown menu. Load the "master .txt file" list (that you earlier created from the previous steps.) and click "Open"
4. Xenu is now going to go through all the URLs from the master .txt files. Depending on the file size it could take a couple of minutes to an hour or more.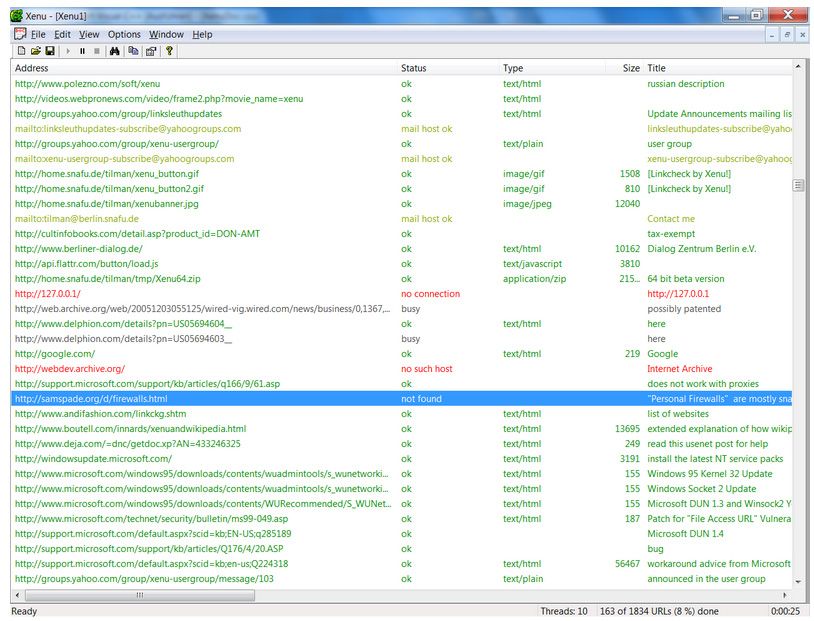 5. Once done, you next want to go the "File" menu, then select "Export to Tab" and name the file and save the .txt file to somewhere on your hard drive.
6. Open that .txt file in Excel, and in Excel select the "Data" button on Excel and then select "From text", then open the .txt file that you earlier saved.
7. Once the file is open, you will see a popup called "Export Wizard", now just keep hitting the enter button on your keyboard until the Export Wizard disappears.
8. Now you should see all the data imported into the Excel spreadsheet.
9. In Excel select the "Status Text" field and click the "filter" button in Excel.
10. Go over to "Status Text" and click the "drop down" filter.
11. On the drop down and unselect the "Select All" checkbox. Now scroll down where it says "No such Hosts", and check that.  Click OK. (see graphic below)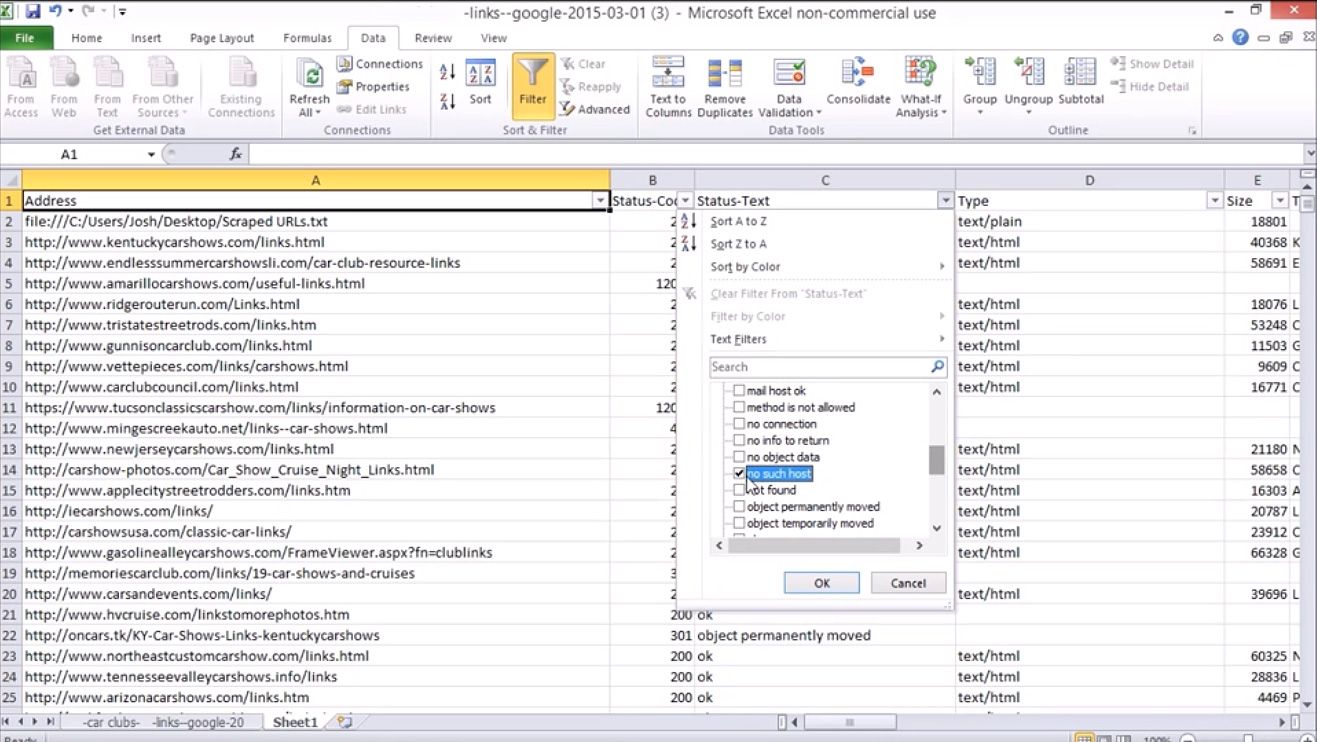 12. You should now see all the URL that are filtered as "No such Hosts".
13. Save the sheet and name it something like, website-awards-urls.csv or any other Excel format to your choosing.
No such Hosts is a filter to give us an indication of whether a domain is available which we will further check in the next step.
Domain Availability Bulk Check with Dynadot
Now we are at the point where we will find out if those domains are truly available for registration. We will do that with the Dynadot domain availability checker tool. So let's follow these steps.
1. Go here to Dynadot Bulk Checker Tool.
2. Insert no more than 1000 URLs at a time from the website-awards-urls.csv file  into the Dynadot input field.  (note: Dynadot will not allow more than 1000 checks at one time)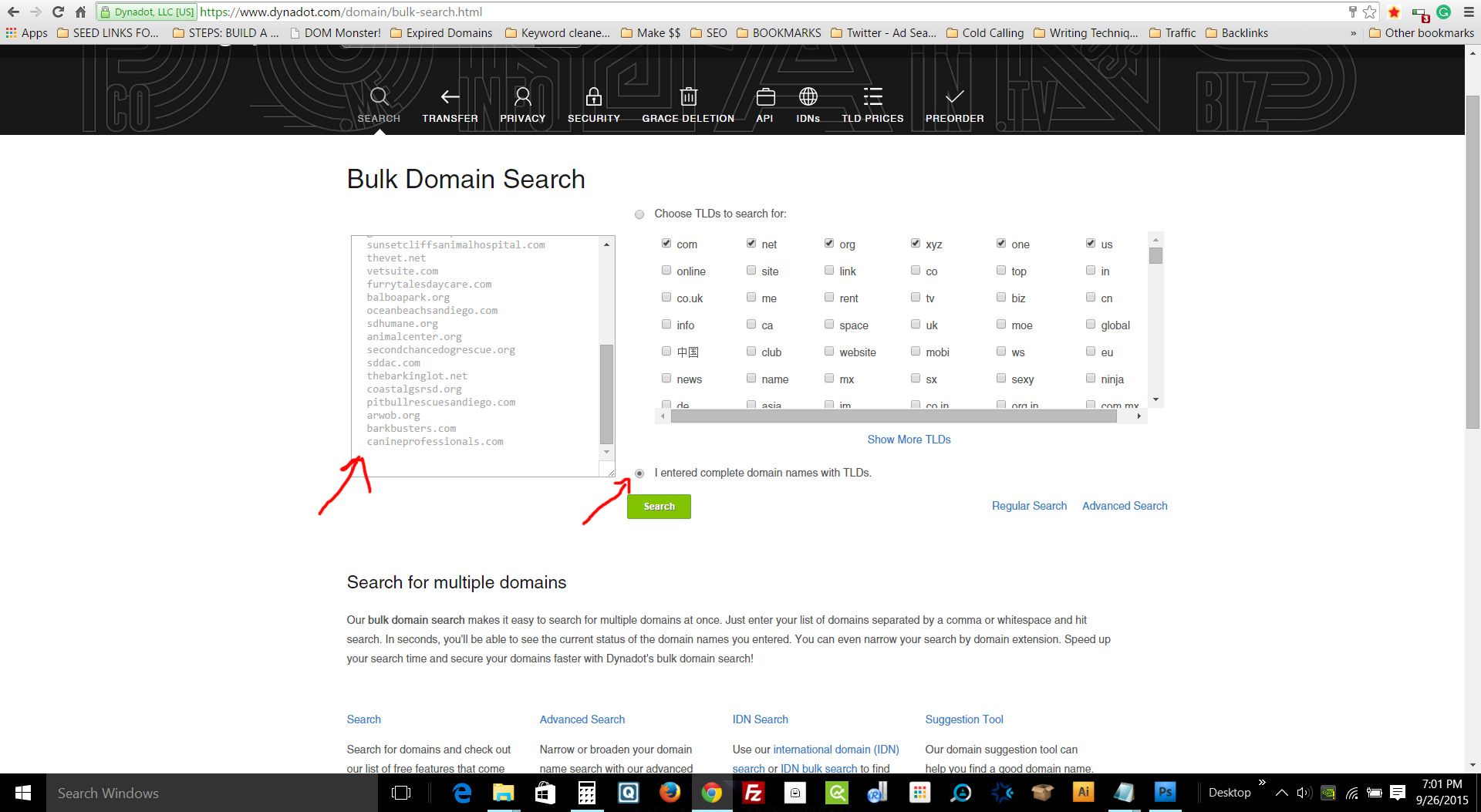 3. Also, make sure you check off "I entered complete domain names with TLDs."
4. You should now see if any domain are available. Select any that are available and spam check them.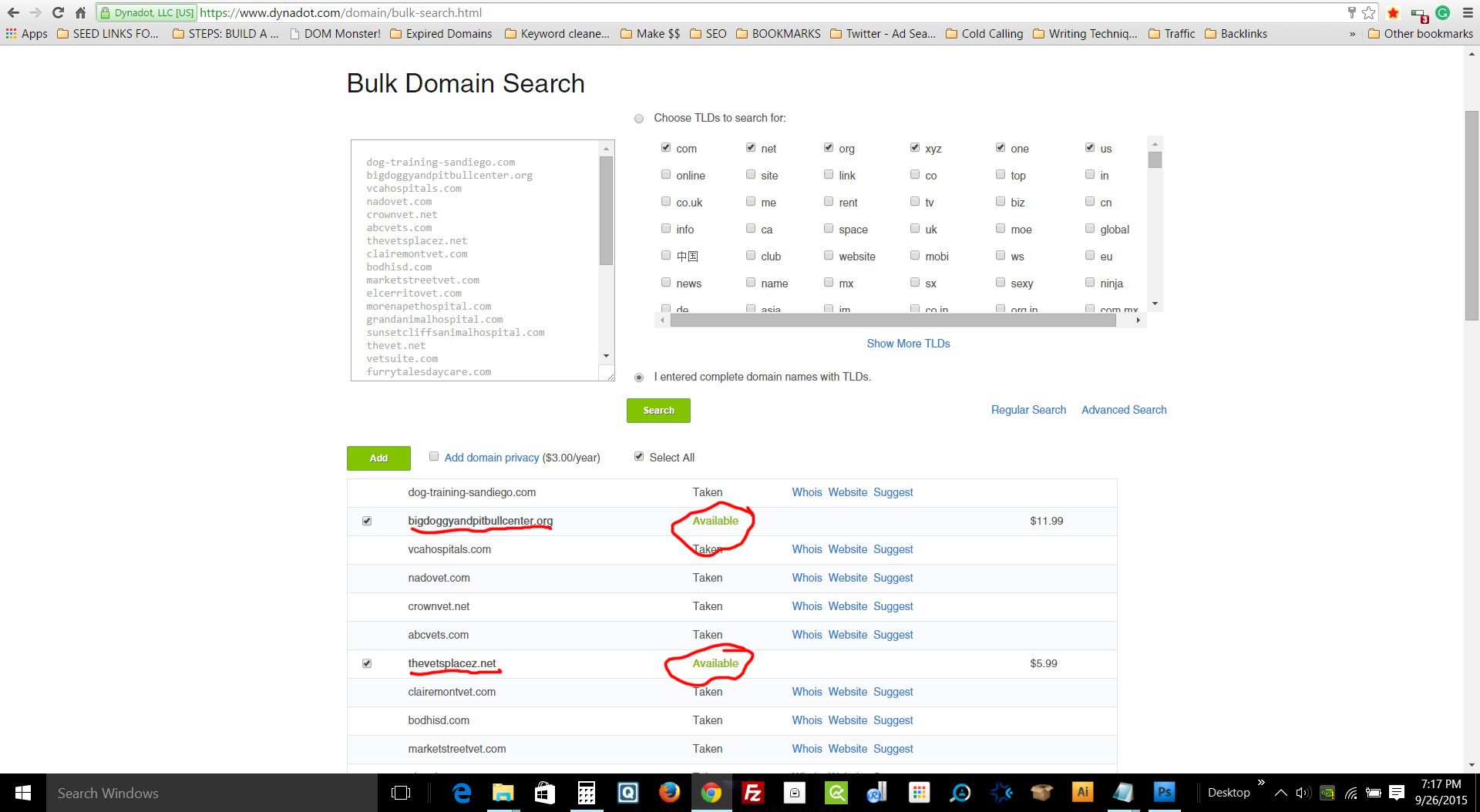 Spam Check Domains
Please visit –> Chapter 13: Spam check your expired domains. Here's how.